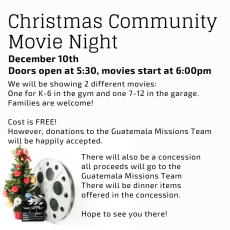 Report Cards are going out on Friday. It has been great reflecting on all our progress this year. If you missed the parent/teacher conference or would like some clarification on anything, please send an e-mail to me: dwolfsen@highroadacademy.com to set a time to meet.
This week we are learning to find perimeters. Make sure to discuss situations where you need to find perimeters, such as how much fence you'll have to buy to fix the one the blew down in the storm.
We are also discussing the protests in Iran. Students might enjoy talking about their opinions and what evidence they based them on.
Christmas Movie Night
Join us for movies on December 10 to support the Missions team!
Christmas Accessories:
Students may wear festive hats, scarves, gloves, socks or leggings with their uniform. All items must be Christmas themed. Baseball caps and bucket hats do not count unless they are particularly Christmassy in some way.
Salvation Army Food Drive:
The food drive will start December 1st, note that cash donations are preferred as they can buy things at a discount price thus making the donation go farther.  More information will come closer to December.
Christmas Sweaters Day:
On Wednesday, December 14th all students (K-12) are welcome to wear Christmas-themed clothing.  Any student not wishing to participate can wear their regular uniform.
Christmas Concerts:
The students have begun working on preparing for the Christmas concerts.
Grade 4-12 Concert: Thursday, December 15th at 6:30pm
Grade K-3 Concert: Friday, December 16th at 10:30am
Note: All classes will be dismissed early on Friday, December 16th at 11:30am (after the concert).
There are no classes for High School on Friday, December 16th.  Those students involved with the primary concert will need to attend for the morning.
A few reminders:
If your student is going to be away from school, please use the Student Absentee Form, found on the website (MyHRA section).  This lets the office and the student's teacher know that they will not be at school.
As the weather gets colder, please remember to send warm jackets, gloves and toques for the students to wear as they will be going outside even when it's cold.
Check the Lost & Found bin – this gets emptied at the end of every month, so make sure to check it for your lost items before Christmas break.
School Closures: Please check the HRA website, Facebook, Instagram and local radio stations for information about school closures.
Upcoming Events
November 30 Intermediate Chapel, the following students are helping:
| | | | | | | | |
| --- | --- | --- | --- | --- | --- | --- | --- |
| Emma | Mattea | Chrissy | Andy | Cassandra | Russel | Zack | Beth |
| Sahaj | Sophia H | Jada | Miguel | Jackson V | Karida | Sarah | Sasha |
December 2 Report Cards
December 10 Christmas Movie Night
December 14 Christmas Sweaters Day
December 15 Intermediate Christmas concert 6:30pm
December 16 Last day of school before Christmas Break